I just found this free JVZoo, ClickBank and WarriorPlus Product Launch Finder Tool (web-based, no download required, no signup or login required, 100% free, enjoy today and for life).
It called Pro.Club ( http://www.pro.club/launches/) – basically it's a new product launch calendar software.
If you are an affiliate, product owner, JV – launch your own products or promote product launches as an affiliate – this helps you.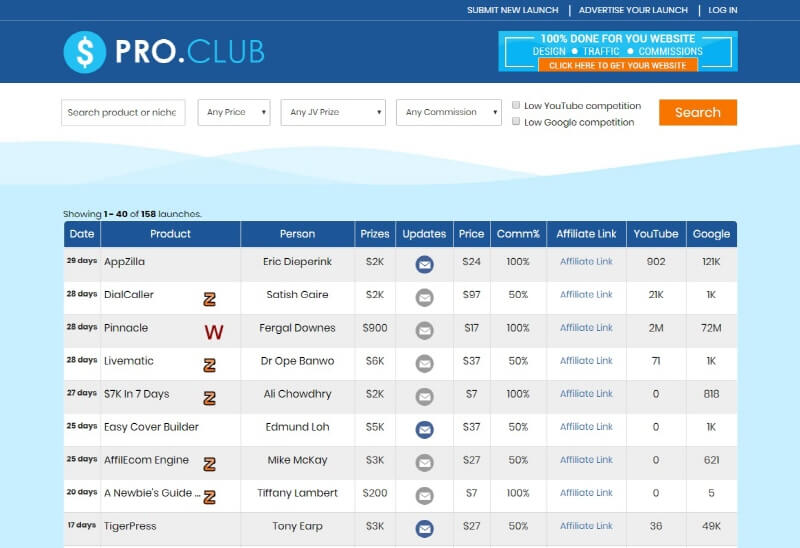 What is Pro.Club?
Pro Club is your new "automated JV calendar". Find & promote new product launches:
Complete – All JVZoo, WarriorPlus & ClickBank product launches – 158 in the database right now
Customize – View & filter – by keywords, JV prizes, price, commission, affiliate link & JV page
Save time – Discover all JV email list updates from within ProClub – check the "updates" column
Advanced – hover to preview JV page, discover launches with low YouTube/Google competition & more
But Pro.Club isn't just powerful. It's fast.
No more trawling through launches, then deep-crawling your way to affiliate links.
I defy you to use the site less than once a day – but to spend more than 1 minute on it.
How to Use Pro Club's Advanced Features?
Pro Club is built for speed. But it's powerful too.
Here are some of the "advanced" features on the ProClub JV/Launch Database:
Hover over products to view a preview of the JV page (without even clicking a link)
Instantly get all the key info – date, price, JV prizes, commission percent, etc – all on one page
You can bookmark searches you run – e.g. "show low-ticket launches, with $1k+ JV prizes & 75% commissions" (these 26 products)
See a product launch you like? Access the JV page or affiliate link in 1 click – no messy deep-links
Plus, check the "update" column out – it displays all JV email updates – for any launch in their database.
It's basically a much smoother, faster, easier way to find the exact product launches that you want to promote.
Hope this helps,
Leo Reynolds